If you're seeking membership in a critique group, it's most likely because you hope to improve your ability to tell a story. If you're a new writer, you're also looking for guidance on the basics of grammar and craft. And if you're a published author, you might be looking for reasons your books aren't selling. Whatever your circumstances, it's important to first know what you hope to gain from a critique group. Next, prepare yourself for your first session and expect these things:
That Nervous Feeling: You will be nervous before you attend your first critique group. The butterflies will flutter when you reach the bookstore where they meet, or you join them in a video chat room. It happens to us all our first time. Hell, it comes back when you present your first pages to the group. Resist skipping out because you'll meet many people who were once in your shoes, and members are always excited when new writers join in.
Auditing is Easy: A good critique group will expect you to audit a session or two before you start critiquing. So, during your first session, you can sit back and watch the process. Bring a notepad and write down any questions that come to mind. You should also jot down terminology that may sound foriegn. And expect the members to suggest books on writing you'll find helpful. Our group has a list of books we endorse. Click on 'Books on Writing' in the menu above if you're interested in our suggestions.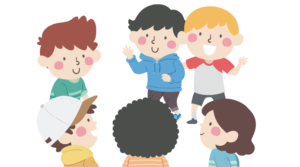 Warm and Friendly Members: Pay close attention to how the members interact. If they're joking and laughing, it's a good sign they all get along. Well, unless they're making fun of other writers. This would be a good reason to search for another critique group. You'll know right away if the members are welcoming and ready to assist new members, but don't worry if some people appear quiet or standoffish at first. There are always those who need time to warm up. And a process, heavy on criticism, takes time to build trust, especially among new members.
Time to Talk Shop: We've been preaching this one in other posts, but it is so important that you walk away from a critique session with more than redlines and critical comments. Most writers share the ultimate goal, to publish their work and sell books. Consider showing up early to the session you're auditing to see if the group appreciates the mentoring process. Writerly discussion will not only set you on a productive path, but also help you to avoid the pitfalls.
Constructive Criticism: The fact that all critiques should include the positive and the negative is another thing we've been talking about frequently. So when you're auditing, make sure the writers keep it serious while they deliver their comments. Beware of a group where they belittling others' submissions or style of writing. The writers should be tolerant of what is presented to the group. Unless, of course, the piece is offensive. Which leads us to the next section on group leadership.
Organized, Start to Finish: The members should respect their leaders and moderators because they're fair and involved in the success of the writers, as well as the group. The moderators will keep the critiques flowing and on-time so that everyone's piece receives equal attention. And most of all, they will keep the peace. But be careful. A critique group leader is not a prison guard. You're certainly less likely to attend your weekly session when the moderators are overbearing.
After attending your first session, sit down and review your notes against the items discussed in this post and you'll know right away if the group meets your needs, or it's time to start another search.
Wendy Spurlin is the founder of the Spec Fic Critique Group and moderates most of the critique sessions. She leads OTI Press, the publisher of the group's anthologies, and she has recently returned to school to study graphic design and marketing. In addition, Wendy has a passion for horror movies, zombies, wine, and evil in pop culture. Originally from Chicago, she now lives in Colorado where she spend her days writing, studying, and being manipulated by 2 mischievous beagles.
Publishing under the name Winnie Jean Howard, she writes dark comical stories for all ages. Looking for a short, funny tale.? Check out Pete Sinclair's story in the Fall for Freedom prequel to The Courier series. He's been blamed for closing the Gates of Hell and releasing an imprisoned fallen angel by the name of Azael. Lucky for Pete, an angel's apprentice believes he's innocent. She offers him freedom from Satan's forces in exchange for his help returning Azael to his prison cell. If only he and the demon who possesses him had the courage and know how to fight a fallen angel. Buy on Amazon