Third Quarter 2021
Welcome to our quarterly newsletter. Follow along with our members who publish in many of the speculative fiction sub-genres including: science fiction, fantasy, horror, dystopian, weird west, fairy tales and more. Each newsletter will introduce you to a few of our members, recommend a book, and more. To be sure you don't miss an issue, click here to register for the newsletter by email.
Group Creativity, an Anthology Takes Shape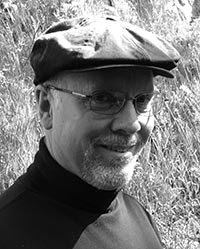 Ralph Beckett, one of the leading forces driving our group of writers, serves as de facto publisher-writer-editor for our anthologies. A cooperative venture like an anthology requires a combination of skills including diplomacy, eye for detail, and a conscience constantly on the alert for deadlines. This is Beckett's second venture for the specific anthology. The difference between the initial venture (First Encounters, 2020) and this one? "The writing has taken a step up," he says, which makes the process easier. Contributing authors know the rules now, and the process moves twice as fast. And the publication tasks, including layout, several rounds of editing, design, and production, all provided by volunteers, must be seamless.
Beckett has experience to rely on. Although he never aspired to be a professional writer, throughout his professional life as an MD specializing in pulmonary disease, he wrote technical articles and now has a medical blog, "Quality Health Care, Please." Since his retirement, he's self-published three science fiction novels and has two more in the works. "What I do isn't intended to make money," he says, "but to have fun."
Ralph comes by his interest in science, including fiction, almost from birth in 1951. His parents worked at Los Alamos National Lab in New Mexico, known for its leadership in national security matters since WW II. "If you grew up in Los Alamos, it's a given you're interested in science," he says. A friend's dad collected scifi and fantasy mags and passed them along to Beckett to pour over.
Beckett publishes under R.C. Beckett. His books, Exit Mars, Exit Earth, and Exit Pluto, are available on Amazon.
First Encounter Needs Reviews
Have you read it yet?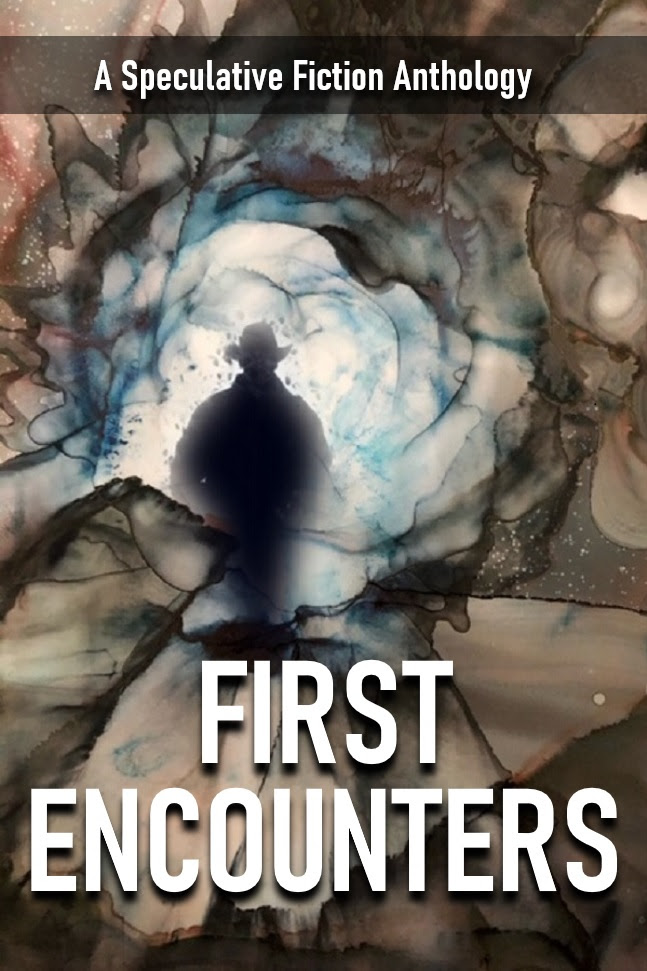 10 stories of first encounters: a voodoo clarinet, a time travel sperm collector, aliens in a supermarket, the ghost of Jimmy Hoffa, feral vampires, a scientist inventing a new reality, and more… Venture into the unknown while reading these shorts filled with crazy science, magic, horror, humor, and suspense.
Makes a GREAT birthday or holiday gift!
Historical Dictionary of Science Fiction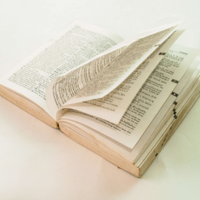 A new website, a work-in-progress, guides readers through a comprehensive, quotation-based dictionary of the language of science fiction. sfdictionary.com. Do you not grok something in a book or movie? Look it up here. More examples:
areology n., the study of the geology of the planet Mars
Clarke belt n. the ring-shaped region around the Earth containing all possible geostationary orbits; [< the name of SF author Arthur C. Clarke, who proposed the idea]
xeno-psychologist n.an expert in xeno-psychology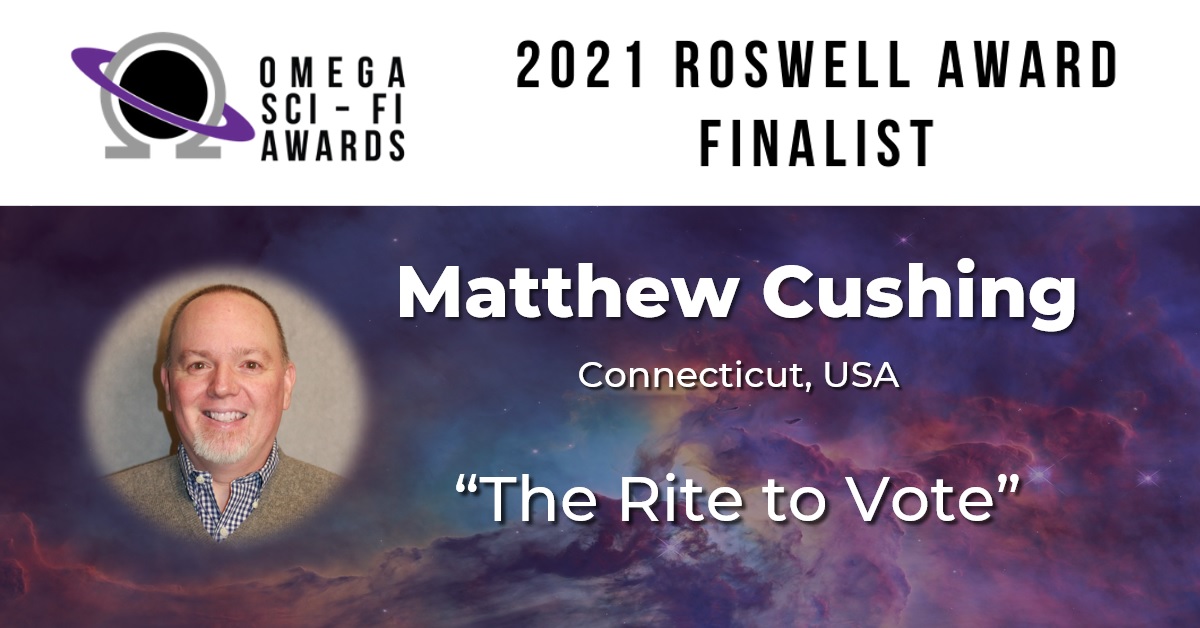 Matthew Cushing Named 2021 Roswell Award Finalist
Our very own author, Matthew Cushing's short story "The Rite to Vote" was selected as a Finalist for the 2021 Roswell Award. Presented by The Lightbringer Project and the Omega Sci-Fi Awards, the Roswell Award is an international short science fiction story competition that provides an opportunity for science fiction writers to imagine the future of humanity through excellence in storytelling.
For 2021, over 500 stories were submitted from around the world including South Africa, Germany, the United Kingdom, Russia, Tanzania, the United States, and many others. Six finalist stories were selected as well as nine honorable mentions. Judges included notable science fiction authors Steven Barnes, S.B. Divya, Rebecca Moesta, and Larry Niven.
The finalist stories were performed live by celebrity guests during a virtual ceremony on May 22, 2021. David Blue, of Stargate: Universe fame, brought life to each of the character voices in the story in a brilliant reading.
Second Law Anthology eBook Available NOW!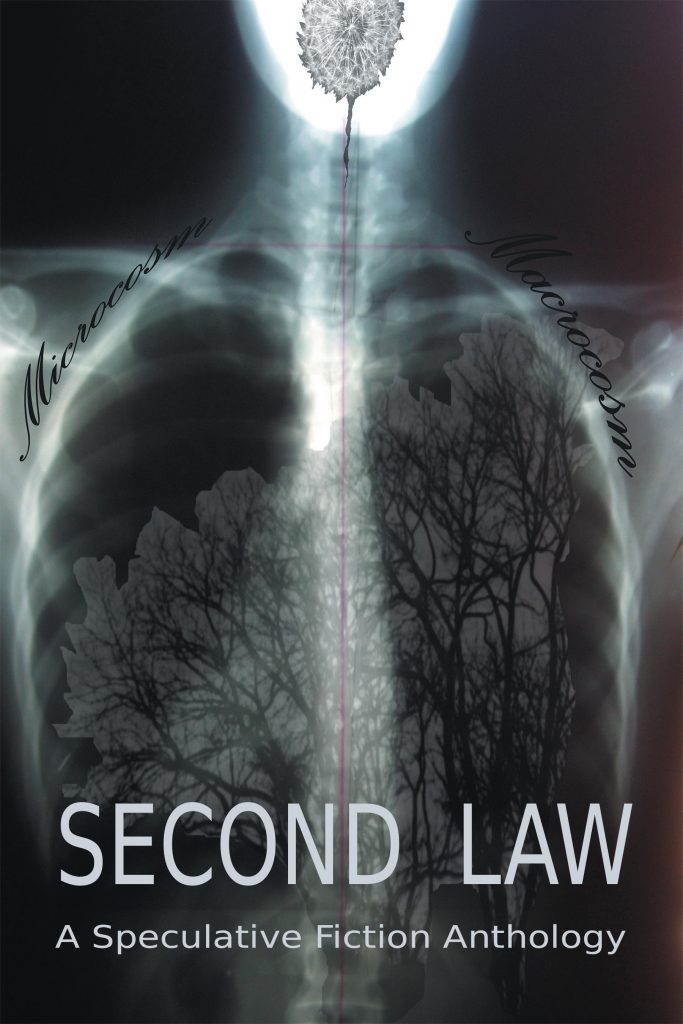 Laws, framed by unscrupulous leaders, diminish freedom. They can also be just, superfluous, or downright wrong. Second laws are (by design) less important than primary decrees. But depending on how regulations are ordered, the second law might be imperative for social stability, morality, or survival.
This collection offers ten original stories with diverse themes and bodies of law. They include these topics: corporate espionage remains rampant in the future, humans and robots swap identities, space pirates exact frontier justice at their own peril, greed and lust remain ingrained in humanity, teenagers fight robots for their freedom, an outbreak binds a couple together with the strong nuclear force, an immortal risks all for what is morally right, a drug-addicted man struggles to break his destructive cycle, aliens decide to assimilate into a Denver neighborhood, a necromancer hunter struggles between his duty for work and his family, soldiers fight off psycho fairies, and Greek Gods give a flawed man a chance for redemption.
Join the journey with these unsuspecting characters and discover if they learn from their encounters or suffer a tragic fate. Including imaginative stories from:
Kayelle Allen, R. C. Beckett, Matthew Cushing, L.V. Ditchkus, Cheryl Fallin, Liz Iozzo, Paul Martz, Vista McDowall, Apryl Newkirk, Bruce I. Schindler.
Well-Loved Spec Fic Books
by Bonnie McCune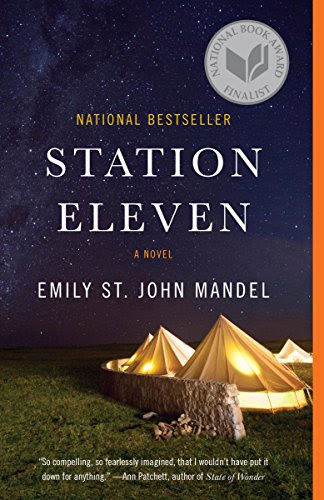 Why do we adore apocalyptic novels? Is it because they voice our fears about our so-called civilization? Or is it because we secretly wish our society and all the crazy people and things that happen would get their comeuppance?
In any case, here's another in the genre, but one that's stunningly well written as well as an attention-grabber. Station Eleven, by Emily St. John Mandel, published in 2014, thrust into best-seller and best-book status, and winner of the Arthur C Clark Award in 2015, rings so true, every character—and there's plenty of them, from an eight-year-old girl to a thumping good, evil, self-proclaimed prophet–could be your friends and neighbors.
Mandel's fourth novel takes place primarily in the Great Lakes region after a fictional swine flu pandemic, known as the "Georgia Flu", has devastated the world, killing most of the population.
Critics praise the understated nature of Mandel's writing as she simply lays out the characters and plot in a realistic, matter-of-fact way. There's lots of action, fighting off bad guys, battling for sheer survival, but also much insightful psychological and thoughtful musings about nature and humans and the earth's future, especially captured in the section in which hundreds of survivors take refuge in an airport, behaving exactly like your friends and neighbors.
Mandel doesn't consider herself a "scfi" writer. Her talent as a "literary" author is indisputable. In addition, Station Eleven, carries a warning not to get too comfortable in reality. For unless we improve our ways, that world could become our fate.
LIVE WELL AND PROSPER
Artsy Doings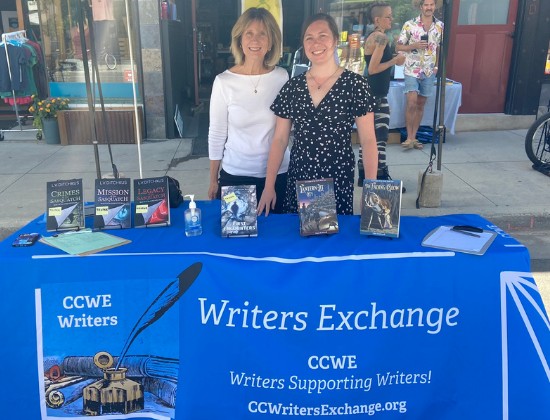 RMFW members L.V. Ditchkus and Vista McDowall participated in an Author Gallery in Salida, Colorado, during Salida's Art Walk in June, at the Book Haven book store. L.V. promoted her Sasquatch Series of books, and Vista McDowall promoted her Sovereigns of the Dead Series. L.V. "unveiled" her very own Sasquatch at this event. Art Walk is a local celebration. Gallery owners open their shops to the public to showcase their work and talk about their crafts. This was the first year authors were included–after all, writers are artists, too. If you'd like to participate in next year's Art Walk (June 24-26, 2022) contact Linda Ditchkus at [email protected].
CURRENT HAPPENINGS:
Sasquatch Series by L.V. Ditchus won first place for the Colorado Authors League book awards (sci fi category). on July 17. Each spring since 1942, CAL has recognized multiple works across several different categories and genres. Watch Linda talk about her series.
New short story publication by Bonnie McCune, "The Girl Who Loves the Boy Who Loves the Girl Who Plays the Cello," describing the circuitous path romance can take, has been published by The Sunlight Press. MORE INFO
Kayelle Allen announces the publication of two new books! Released July 23, 2021: Alitus, Tales of the Chosen, by Kayelle Allen. Science Fiction Romance. Alitus is addictive. He can touch no one. But how long can he deny his heart? Universal Buy Link Releasing Aug 20, 2021. Jawk, Tales of the Chosen. Science Fiction Romance. Easy mission. All he has to do is seduce the most powerful and feared man in the Empire. And then betray him. BUY LINK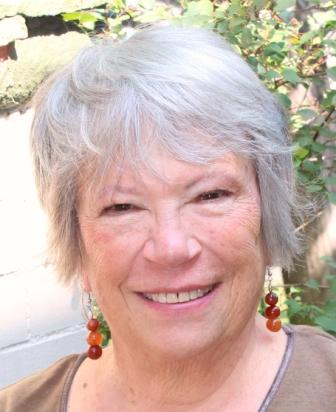 Tenacity is responsible for the successes in my life. Since fifth grade, I've been determined to be a writer, when I submitted a poem to the Saturday Evening Post (it was immediately rejected). Thousands of rejections along with some acceptances taught me the craft, and after decades, I decided to follow my passion, fiction writing. My recent novels are proof of my persistence.
My interest in writing led to my career in nonprofits focusing on public and community relations and marketing. I've worked for libraries, directed a small arts organization, and managed Denver's beautification program. My civic involvement includes grass-roots organizations, political campaigns, writers' and arts' groups, and children's literacy.
Simultaneously, I've been a free lance writer with publications in local, regional, and specialty publications for news and features. A secret love—live theater, and had I been seven inches taller and 30 pounds lighter, I might have been an actress. For years, I entered recipe contests and was once a finalist in the Pillsbury Cook Off.