Want free sci fi books? First Encounters and many more book selections are available in the Gamers, Readers, and Science Fiction Unite group giveaway. This giveaway is hosted on Prolific Works starting today and running through April 30th. We encourage our readers to drop by the group giveaway this month and download our anthology and any other books that intrigue and fascinate. If you need a little more information, here's the description to entice!
Flying cars, androids, time travel, virtual reality…Indulge in some sci-fi, cyberpunk, and video game books!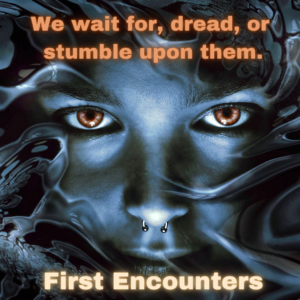 Prolific Works is a great place for any reader to sign up and find new authors' books. They have selections in all types of genres, so you're sure to find a story you'll love. And if you start a story that's not your cup-of-tea, you can go back for more free selections to try at any time. Our freebie on Prolific Works only runs until May 10th, so get it while you can. It's also a great way to sign up for our email list.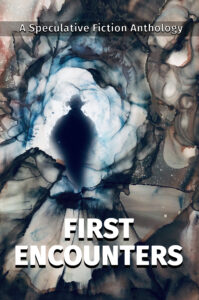 A quick reminder that First Encounters includes 10 stories of first encounters: a voodoo clarinet, a time travel sperm collector, aliens in a supermarket, the ghost of Jimmy Hoffa, feral vampires, a scientist inventing a new reality, and more… Venture into the unknown while reading these shorts filled with crazy science, magic, horror, humor, and suspense.
And it's not our last anthology. We are currently working on Second Law, which is also the theme our authors been having fun reinventing. The cover reveal will happen soon, so come back frequently to catch a glimpse and read an interview with our cover artist, Lauren Curtis, an artist I love and have learned many things from. The anthology is expected to release mid- to late-summer.
After you read First Encounters, we'd love to hear your thoughts. Drop by our website any time and leave a comment in a blog post or via our Contact page.
Wendy Spurlin is the founder of the Spec Fic Critique Group and moderates most of the critique sessions. She leads OTI Press, the publisher of the group's anthologies, and she has recently returned to school to study graphic design and marketing. In addition, Wendy has a passion for horror movies, zombies, wine, and evil in pop culture. Originally from Chicago, she now lives in Colorado where she spend her days writing, studying, and being manipulated by 2 mischievous beagles.
Publishing under the name Winnie Jean Howard, she writes dark comical stories for all ages. Looking for a short, funny tale.? Check out Pete Sinclair's story in the Fall for Freedom prequel to The Courier series. He's been blamed for closing the Gates of Hell and releasing an imprisoned fallen angel by the name of Azael. Lucky for Pete, an angel's apprentice believes he's innocent. She offers him freedom from Satan's forces in exchange for his help returning Azael to his prison cell. If only he and the demon who possesses him had the courage and know how to fight a fallen angel. Buy on Amazon